Bikes are machines and they need regular maintenance to keep them working well. You may be using your machine to get you to work and back everyday. You may be using yours purely for pleasure or you just might only use yours now and again!
Whenever and wherever you use your bike you need it to work w
ell and do exactly what you want it to. Unfortunately your bike might not always want to do this and when it doesn't that's where I can help.
I offer a very flexible bespoke professional mobile mechanic service. Think of it as having your own personal mechanic.
For emergency repairs such as punctures, chain snapping, brake failure etc
I can come to you and repair your bike where you are, be it home or work. Getting you back on the road as quick as possible (please see the services menu of what work is available) this service includes the call out charge and is throughout the day.
If urgency is not such a big issue we have a few more options...

I can either call to your home and fix your bike, there and then with the mobile workshop (more details and pics about this in the how the service works menu). This is all done with while you wait with professional tools and quality spares.

Or you could choose to take the collect and delivery option. I can take your bike away to repair it in the workshop and return it to you the same day, next day or at your convenience. Both options are the same price, both come with the same warranted work guarantee.
Bigger jobs such as deluxe services, brake bleed's and wheel builds normally need to be taken away as they take longer to complete. The turn around on these jobs will be as quick as possible and I will do everything I can to get you and your bike back on the road/dirt as fast as possible.
I keep all main service parts in stock and with access to a large parts distributor I can get more model specific parts normally on a 2 day service.
This is the only kind of service on offer in Leeds. My goal is to let you enjoy and use your bike as easily as possible with the shortest turnaround service possible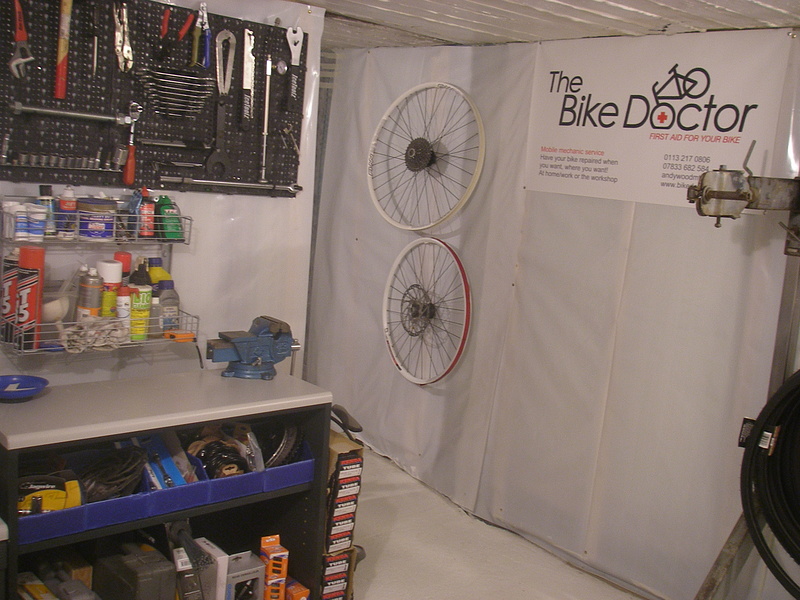 Bike Doctor Workshop


The Mobile Workshop working in an office space.

Hours of business are Mon - Fri 9am - 7pm.

Currently I only accept Cash, Cheque or bank transfer upon completion of work.